The first time I turned invisible I was ten years old.
My sister was 18 months old and had graduated from adorable living doll I could dress up and feed, to a demanding toddler. As a former only child and only grandchild, I was used to being the centre of most things in my world and finding myself summarily dismissed I was determined to redirect the spotlight back to its rightful place---on me.
First, I tried flinging myself onto my bed with a dramatic sigh. But since our house was a rather a spread out, no one seemed to notice. Sometimes I would stand behind my bedroom door and wait until I heard someone coming to that end of the house---and then fling myself again. LOUDER sigh. But no one came.
WHY OH WHY DO MY PARENTS NOT COME INTO MY ROOM AND SIT ON MY BED AND ASK ME WHAT IS WRONG LIKE THEY DO ON THE BRADY BUNCH!!
Those were REAL parents! Those were LOVING parents! They had some sort of internal guidance system that told them when their children were in need of special attention!! WHAT WAS WRONG WITH MY PARENTS!
When flinging didn't work....I became desperate. Clearly something had to be done.
I had seen enough TV to know that if I packed a bag and ran away THAT would teach them. I imagined the panic---the frantic searching----the relief and hugs when they found me....the attention and love. Yes. I would be back in the game! A key player once more!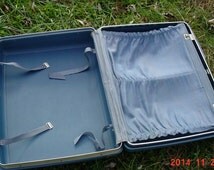 I hauled my small blue suitcase from the basement, through the house and back to my room. No comment from my mom. Then I, grabbed an apple and some cheese slices, my teddy bear, a blanket (to make a tent) and some clothes, stuffed them in the blue clam shell case and snapped the latches in place.
But I wanted to be fair. I thought, I should give them a chance to FIND me with the suitcase and then concerned, ask me what was going on. Again. Just. Like. The. Brady. Bunch.
So I went into the bathroom and locked the door and waited. Someone would EVENTUALLY have to go to the bathroom after all!! SOMEONE would have to find me!
Clearly I underestimated the fact that we had TWO bathrooms and the fact that no one noticed when I spent entire days in my room repeatedly flinging myself on the bed. After 2 hours I decided to change tactics.
With a flair for the dramatic, I opened the bathroom window, tossed my suitcase out and climbed up to follow it out to the side of our house. THIS would teach them. After not being able to find me, they would have to break down the bathroom door, only to find the room empty and the window up! I could picture the whole thing in my mind. (To date, they had seemed a bit slow on the uptake that I was in distress and so I figured this locked door/window thing would provide enough hints that I was serious).
Two blocks of trudging later, I was wishing I had chosen a backpack ---suitcases were more like safes then --- but I kept going the three blocks further to my school. It was the summer, school was out and no one was there.
From where I sat on the swings, I could see into my grandparent's back yard. Years earlier, my grandfather had owned all the land leading up to the school, which I thought was pretty cool! Now a chain link fence separated the backyards of the surrounding houses from the playground.
So really, if my parents came looking for me at my grandparents, and were on their side porch they might actually be able to see me slowly swinging back and forth. I practiced a slow swing, dragging my feet in the ground as I stared into the dirt.
Four hours, one apple and two cheese slices later, it started to get close to what I figured, was dinner time. Surely, someone had noticed I was gone by now???? Maybe if I moved closer to my grandparent's yard.....
Their car wasn't in the driveway. Looks like they were out. I sat with my back against the fence until the chain link started to leave dents in my back.
When the sun started to go down I was thirsty ( I had not thought to bring a drink) and hungry and furious. I cried most of the way home. HOW COULD THEY NOT NOTICE I WAS GONE???
All cried out, I pushed my suitcase through the window and climbed back up and in. My face was hot with exhaustion and embarrassment. I opened the door and peeked out. I could hear my parents talking in the kitchen.
Part of me wanted to storm into the room and tell them exactly what I did---aghast at their lack of interest in their oldest child. But something held me back. A small tickle in the back of my brain caused me to pause and think....
What if I went out there and they didn't care? What if they just looked at me, or worse, looked through me. I suddenly felt totally invisible. And afraid.
After all, no one had noticed my bodily bed flinging...my stomping to my room....over the past few weeks. No one even noticed that I was gone all day and missed dinner!
So I quietly went into my room, unpacked my suitcase and stuffed it into the closet. I was embarrassed. My parents didn't notice I was gone all day.
It was the first time I became invisible. What happened next set a dangerous tone for the rest of my life that I am just now starting to understand.